SCRAPBOOK No1 - Painterly Style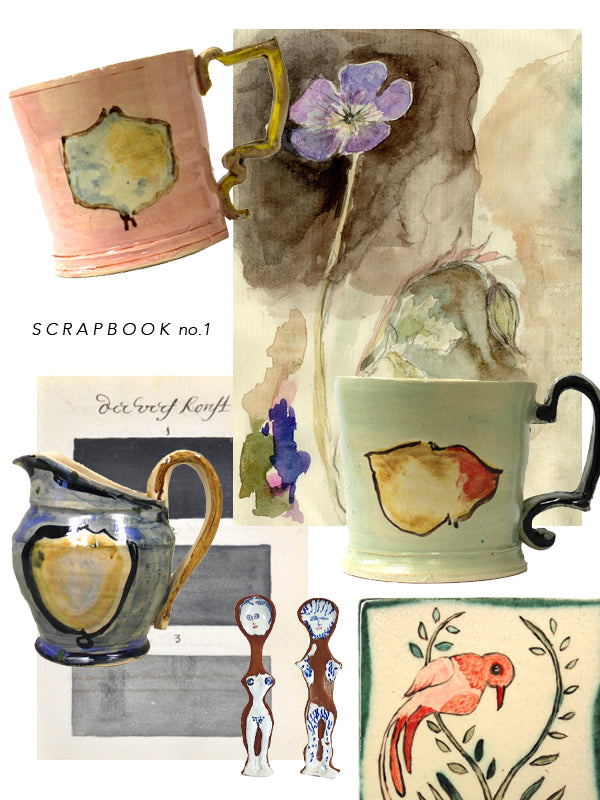 Inspired by the new hand-painted ceramics of Ginny Sims, we explore other painterly objects within The Shop Floor Project's collections and take a look at various artists and current exhibitions that also focus on paint. If you love smudgy glazes, watercolours washes and copious colour charts - this SCRAPBOOK is for you... 
The Shop Floor Project has commissioned American artist Ginny Sims, for a second time, to create a collection of new ceramic cups based on her research into the Leeds pottery sketchbooks held at the V&A Museum. Her work seems on the one hand very familiar - 18th century tankard shapes, servants' quarters bowls and jugs, yet the colour palette and smudgy stormy glazes feel almost Rothko-like, the combination is compelling.  
Ginny Sims has also written of her admiration for contemporary Swedish painter Mamma Anderssson, who's mysterious and compelling paintings present an everyday world instilled with magic.
Mamma Andersson, Coming Home, 2006. Oil and lacquer on panel 48 x 62
Wall Flora is a series of five large scale prints taken from the pages of one of Denise Allan's many sketch books. It documents the varied species of plants living in and around a small piece of ancient dry stone wall. As part of the artist's ongoing project which is focused on the 16th century house and grounds at Swathmoor Hall, close to her studio on the Levens Estuary in Cumbria. These inky studies are a mixture of bleeding watercolours and fine pencil.
Michaela Gall paints on ceramics in much the same way as she paints on paper, with fluid strokes often in her beloved cobalt blue. A British painter and ceramicist, she is one of our long time collaborators at The Shop Floor Project with past projects covering subjects from Inuits to historic figures.
Michaela Gall's paint box - as seen in the film here...
If you like Michaela Gall's playful painted ceramics, we're certain you'd enjoy the work of Rose Wylie and her exhibition Quack Quack at the Serpentine Sackler Gallery until 11th February. Receiving rave reviews, the Guardian writes that "the freedom and courage of Rose Wylie shows a way forward for painting in this century." 
In 1692, during the heady days of the Dutch Golden Age (when Vermeer painted interiors and Maria van Oosterwijck painted extraordinary flowers), a mysterious man from Amsterdam was busy creating what is possibly the very first colour chart in existence. 
Almost 300 years before the Pantone Colour Guide, this extraordinary book was created by A. Boogert, who set out to demonstrate how to mix watercolor paint and how to manipulate the paint's value by adding water. The book contains 700 pages and 2000 colour charts, each one painted by hand.
In 2015 The Shop Floor Project was granted permission to reproduce a selection of pages from the book as a limited edition print collection. 
Claudia Rankin's hand painted ceramic tiles feature a menagerie of animals, vegetables and flora. Her painterly style reflects her childhood in London, spent exploring the textile and ceramic collections within the Victoria & Albert Museum.
This led her to an enduring love of colour, motif, pattern and historical narratives; all of which are encapsulated within her work.
A graduate of Chelsea College of Arts, Raphael Balme's work plays with colour and pattern. Drawing on folk art motifs, she makes dream-like landscapes and portraits featuring fictional characters from duchesses to clowns. 
This latest collection is inspired by Balme's recent work on the painted frescoes in the old chapel at Villa Pozzolo in Tuscany. 

 
Throwing Paintings - a tribute
.
Throwing Paintings by Katrin Moye is a tribute in clay to three 20th century female painters: Mary Fedden, Winifred Nicholson and Vanessa Bell. In Moye's experimental new work she has played a game of Chinese whispers with the original paintings, turning the two-dimensional paintings of ceramic jugs and vases back into three-dimensional versions. 
"Although Winifred Nicholson was primarily a painter she was deeply interested in all forms of creativity, notably rug making, textile design and of course ceramics. She was a good friend of the potter William Staite Murray, and owned pots by him, as well as works by Bernard Leach, Lucie Rie, Hans Copper and Janet Leach. Many of these found their way into her paintings, but she was just as happy depicting a humble vase or a pot made by one her friends. So it is tempting to think that she would have been amused and flattered by Katrin Moye's ceramics." Jovan Nicholson (grandson of Winifred and Ben Nicholson).
.
If you've been enjoying Katrin Moye's painted ceramics there's a good chance you'd enjoy Virginia Woolf; an exhibition inspired by her writings at Tate St Ives (and touring sites). This exhibition is led by her writing, which will act as a prism through which to explore feminist perspectives on landscape, domesticity and identity in modern and contemporary art - with works by over 80 artists, including Laura Knight, Gwen John, Vanessa Bell, Winifred Nicholson and Barbara Hepworth.
 
 
 
 
 
 
 
 
SAMANTHA ALLAN