INK & PAPER - PRINTING PAPER CHAINS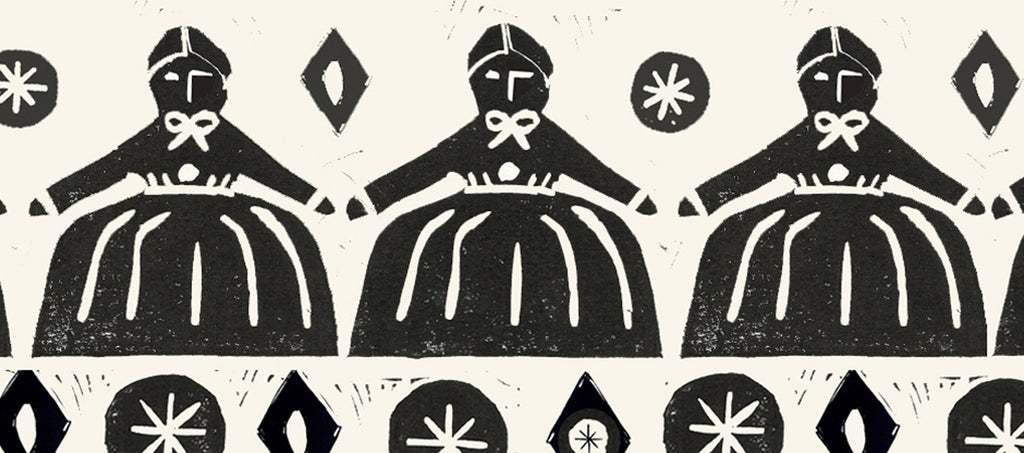 The designs for this year's Paper Chain Garland Kits started life as lino-cut prints. Inspired by early 20th century children's book designs from Eastern Europe, with their woodcuts, bold shapes and inky colour combinations the Paper Chains this year have a distinctly folksy feel. 
A table full of printed motifs and designs, rubbed off the lino block onto paper with the back of an old silver spoon. Peeling the paper away from the block is an exciting moment.
There's something very wintery about inky black and an off-white colour combination seen her on The Star Vine and the Winter Dandelion pattern.
Another design takes inspiration from the classic cut-out paper doll chains.
The bakers in the Biscuit Makers design (above) wear traditional dress and stand proudly, hand in hand, amongst their baked goods.
The Old Flag is a celebratory design directly influenced by early 20th century Russian book covers. The lino-cut design is inked in reds, blues, pale pink and sage green and has a delightfully 'wobbly' effect, showing the hand of the maker.

Gather around the table and assemble metres and metres of paper chains, tell stories, eat mince pies, sing some songs…
Caitlin Daw